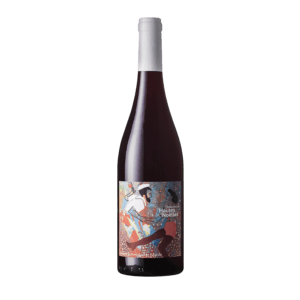 You will love this IGP (PGI) wine with its light, fruity character that makes it very easy to drink.
Grape varieties planted and yields:
100 % Gamay noir à jus blanc
Soil type:
Sand and fine silt over micaschist. Stony soil
Age of the vines:
25 years
Method of vinification:
Harvesting is carried out by hand with the grapes transported in small crates. The grapes are sorted in the vineyard and the cellar
We carry out several picking sessions in the vineyards in order to harvest the ripest grapes
The picking is only carried out in the afternoons
7-10 days carbonic maceration without the addition of sulphur provides us with an intensity of fruit
Only one racking is carried out after malolactic fermentation
No fining
No filtration or maybe a light filtration
Number of bottles produced:
12 000
Tasting notes:
Cherry-red hue with purple tints.
Intense nose of red fruit and black cherries
Very supple on the palate, lovely luscious fruit without any astringency
Serving advice:
Open within 2 years to enjoy the fruit at its best
A real thirst-quenching wine to be enjoyed in good company and served at a temperature of 12°-13°C.

Tataki of red tuna,
Veal T-bone with maraichère sauce
Roasted fig tart