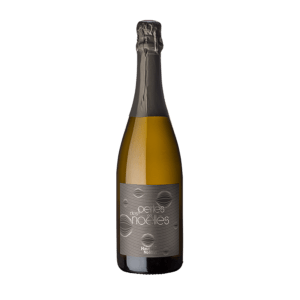 The fine, elegant bubbles and lingering oceanic freshness lend this wine a distinctive light character making it perfect for enjoying throughout a meal.
Grape varieties planted and yields:
70% Folle Blanche, 20% Grolleau Gris, 10% Melon de Bourgogne. This blend may vary according to the vintage. The average yield is 55 hl/ha
Soil type:
Sandy-loam and micaschist
Age of the vines:
20 to 30 years
Method of vinification:
The harvesting is carried out partly by hand.
Produced according to the traditional method, also referred to as the "méthode champenoise".
This wine has been aged "sur lattes" in underground cellars for over 15 months
Number of bottles produced:
5 000
Tasting notes:
Pale hue with green tints
Mineral aromas followed by notes of candied lemon
On the palate, the finesse of the bubbles highlights a pleasurable sensation of freshness.             Long finish.
Serving advice:
Best served at 8°C and enjoyed within 2 to 3 years.
Crack open this bottle and share the joy!

Wild oysters from Mesquer,
Sole meunière with steamed potatoes Rollmops salad with herbs,
Quiche de Valençay with leeks and green salad Soft cheeses such as Langres,
Rum cake with almond meringue and praline cream,