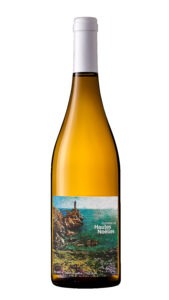 This is a lovely fresh wine with tempting aromas that will be perfect as an aperitif or paired with food.
Grape varieties planted and yields:
100 % Chardonnay – 40hL/ha
Soil type:
Gravel – sandy-loam
Age of the vines:
20 years
Method of vinification:
The grapes are picked by hand when very ripe.
After pneumatic pressing, the juice is transferred partly into a 450-litre oak barrel and party into a stainless steel tank to undergo its alcoholic and malolactic fermentation.
Once fermentation is complete, the wine is generally aged for 8 to 10 months with bâtonnage (stirring of the lees).
5,000 bottles per vintage
Number of bottles produced:
7 000
Tasting notes:
A full-bodied wine, intended for cellar ageing. The initial aromas are those of peach, vanilla and almond. The hazelnut aromas come through a little later.
Serving advice:
Best served at a temperature of 10°C
Drink within 5 years for the best possible enjoyment

Aïoli toast,
Persillade of clams,
Red tuna tartar with ginger,
Turbot Florentine with a hollandaise sauce
Blanquette de veau au citron confit