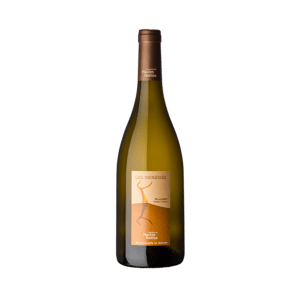 The almost 100-year-old vines of this single-vineyard wine grow on a gently sloping south-west facing plateau. They are responsible for the original character of this wine which emphasize the nobility of Muscadet, particularly in terms of its ability to pair with food.
Grape varieties planted and yields:
100 % Melon de Bourgogne – 25hl/ha
Soil type:
Stony sandy-clay loam with quartz blocks
Shallow soil
Age of the vines:
90 years old on average
Vineyard management:
Guyot Simple pruning
Controlled grassing, hoeing and shallow ploughing of the soil
Method of vinification:
The grapes are harvested entirely by hand and sorted. They then undergo a light maceration before pneumatic pressing and the resulting juice is settled to allow the wine to develop nicely.
Following fermentation with indigenous yeasts, the wine is aged in an underground tank for a minimum of 18 months with regular bâtonnages (stirring of the lees).
Light filtration before bottling
Number of bottles per vintage:
4 000
Tasting notes:
Golden yellow tints
Nose of predominantly exotic yellow fruit, honey and almond
Full and fat on the palate. Long finish retaining a nice acidity
This wine will be at its best if decanted before serving.
Serving advice:
Best served at a temperature of 10-11°C.
Enjoy now or within 10 years

Curry of crayfish from Grandlieu on a bed of Fettuccine with cream,
Roasted chop of milk-fed veal with its fat and roasted potatoes with mushrooms,
Cheeses such as Livrarot, Langres or Gruyère