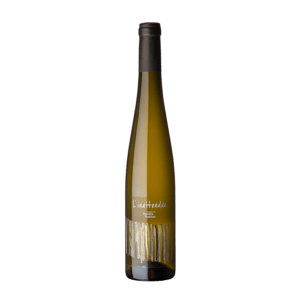 We wanted to allow the Grolleau Gris grape to express itself in a different and unexpected ('inattendu') manner and this fruity sweet wine is the result. Delicious with or without food, whatever you fancy!
Grape varieties planted and yields:
100 % Grolleau Gris – 60hL/ha
Soil type:
Silt, sandy-clay with quartzite blocks
Shallow soil
Age of the vines:
35 years
Vineyard management:
Guyot pruning
Soil maintained through a hoeing and/or shallow ploughing of the soil
Method of vinification:
The grapes are picked entirely by hand and then sorted.
The grapes are dried on a bed of straw for at least 2 weeks to obtain a greater sugar concentration while preserving the freshness of the fruit
After pressing, the alcoholic fermentation, and then 6 months ageing, are carried out in barrels. Filtered, but not fined
Tasting notes:
Pale gold hue
Complex nose with candied and predominantly peachy notes.
The wine develops exotic and candied notes on the palate. Long and fresh finish.
Number of bottles:
900
Serving advice:
Best served at a temperature between 8 and 10°C
Open it just to treat yourself. It can be cellar-aged.

Terrine of semi-cooked foie gras with quince compote,
Tourtons (fritters) stuffed with Bleu d'Auvergne cheese,
Blue-veined cheese such as Stilton or the orange-coloured Shropshire,
Tarte Tatin caramelised with salted butter served with vanilla ice cream.