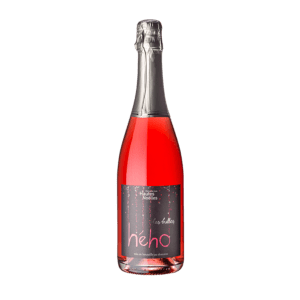 Natural sparkling rosé crafted in the cellar according to the traditional "méthode ancestrale".
This is a joyful wine that will appeal to everyone, even non-wine drinkers!
Grape varieties planted:
80 % Grolleau Noir, 20 % Grolleau Gris. This blend may vary according to the vintage
Soil type:
Sandy-loam and micaschist
Age of the vines:
20-30 years
Method of vinification:
Harvesting is carried out by hand.
Direct pressing and start of fermentation in vat
Fermentation stopped at about 1030 density (55 g sugar and 8.5% alcohol)
Bottling with the addition of encapsulated yeast to restart the fermentation and create carbon dioxide
Disgorgement and final closure of the bottle
The end wine contains 9.5% alcohol and 30g residual sugar per litre
Number of bottles produced:
3 000
Tasting notes:
Redcurrant pink hue. Aromas of red fruit and grenadine. On the palate, a lovely explosion of bubbles creates the impression of a mousse. Long finish.
Serving advice:
Open within 2 years to enjoy the best of the fresh fruit

Enjoy as an aperitif or paired with a dessert – a fruit tart or chocolate cake. In summer, try it with strawberries with sugar or whipped cream